Depending upon the application you are wishing to sign, you might be required to input a Certificate Signing Request (CSR) for your Code Signing Certificate manually. Due to the process being slightly different than regular applications, our team has covered the process for you so there is no confusion or headaches.
Please note: the manual CSR generaton process can only be done on Thawte and Symantec brand Code Signing Certificates, it cannot be done on Sectigo/Comodo brand Code Signing Certificates.
What you'll need
1. A Code Signing CSR
You can find instructions on generating a CSR in Java Keystore here.
 2. Purchase a Thawte or Symantec Code Signing Certificate.
Generation Instructions
1. Click "Begin" or "Generate Cert Now"
After completing your purchase of Thawte or Symantec Code Signing Certificate you will need to click the red "Begin" button to begin the enrollment process.
Note: If you have already exited the page, no worries! Just click the green "Generate Cert Now" button under your Incomplete Orders page within your account.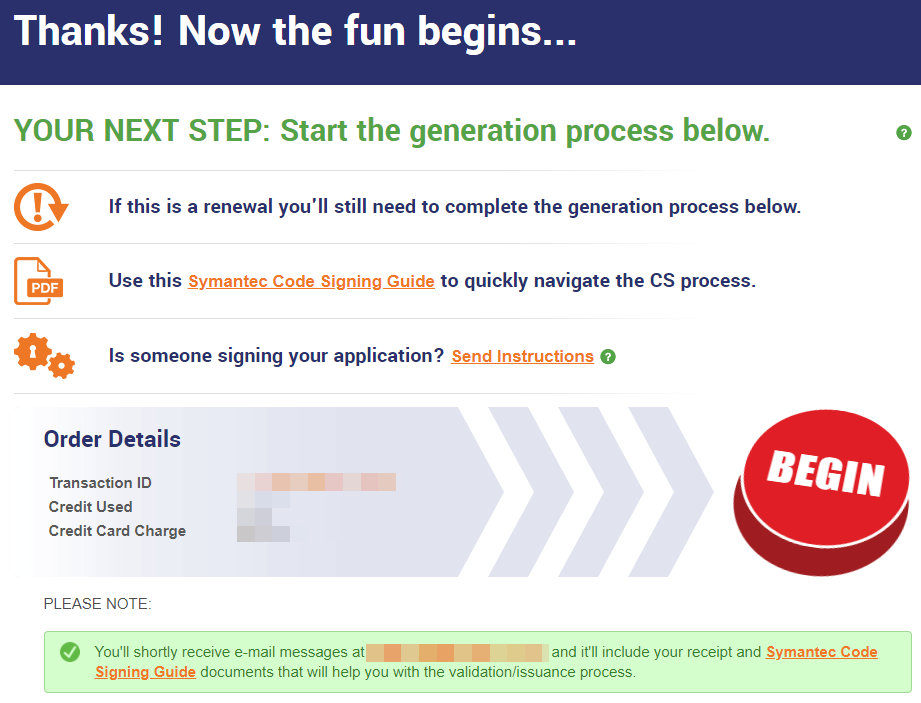 2. Get link to Vendor's site and specify your country
Once the enrollment form has loaded, a pop-up window will appear asking if you would prefer to enroll in the code signing certificate on the respective vendor's website, click the "Yes" button.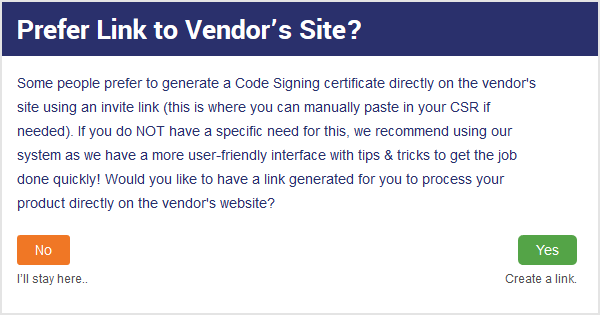 After clicking the button, please select the country where your organization using the Code Signing Certificate is residing and proceed.

3. Follow the link
After creation of the vendor enrollment link, the screen will refresh bringing you to a new page containing your newly created link which you will want to click.
4. Select application – Java
At this point you will be brought to the vendor's site asking you to select what type of application you will be signing using the code signing certificate. By default, Java should be selected. If it is not, please proceed to select the "Java" option and click "Continue" button.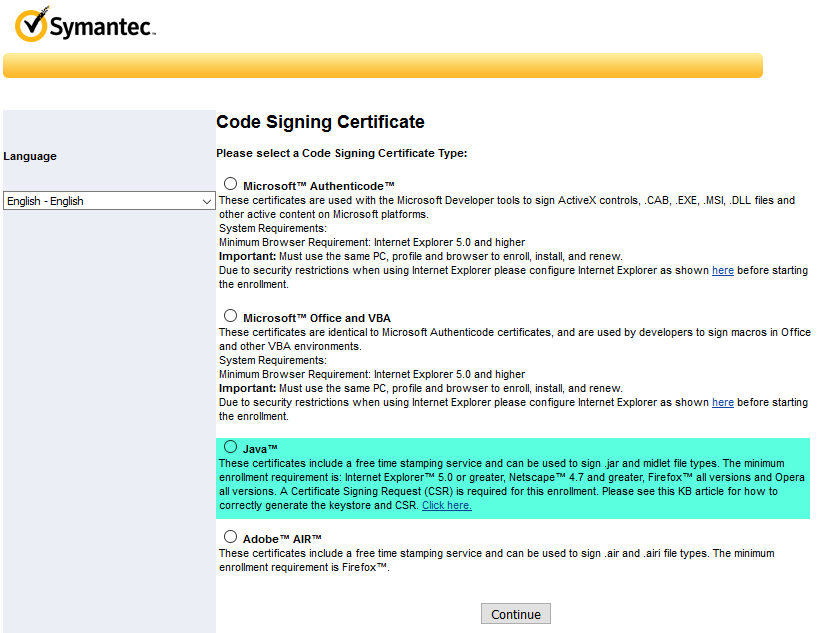 Note: Selecting Java is the only option that will allow you to manually enter in a CSR. The other options will auto generate the CSR using browser tools.
5. Order Details
Once you select Java as your type, you will be taken to a page indicating the Validity Period, Renewal, and Instructions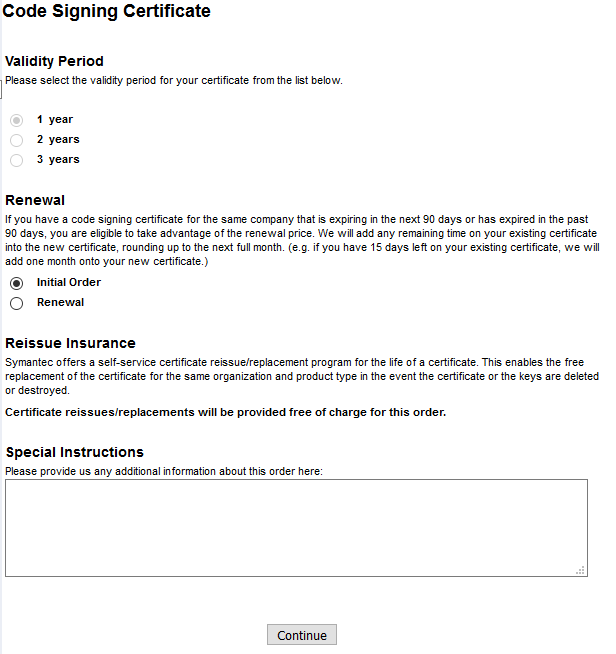 Validity Period – These options will be greyed out as you already indicated the validity period at time of purchase
Renewal – Select this option if you are renewing an existing code signing certificate
Special Instructions – You dont have to put anything here. If this is a renewal and you happen to have the old
6. Paste CSR
Paste in the CSR you generated on the Java Keystore in the field specified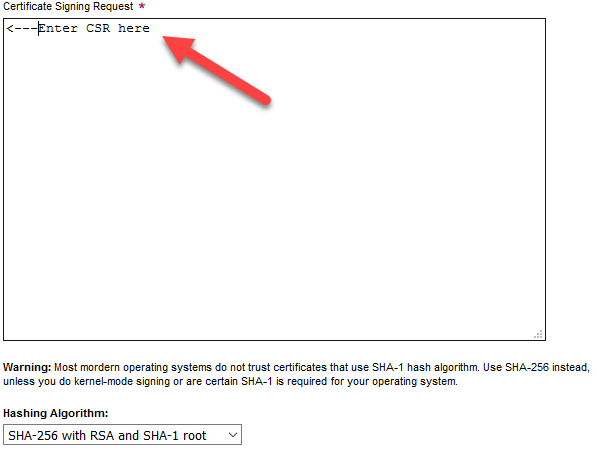 Once you paste in the CSR, you'll submit the order for validation.
If you need assistance on generating a Certificate Signing Request (CSR) manually for a Code Signing please refer to our additional knowledge base article here. If there you have any additional questions or issues, feel free to reach out to our dedicated team of SSL Experts 24/7/365.