Code Signing certificates may be requested by a web browser that is capable of generating a private key. At this time, not many browsers offer this functionality. Windows users may use either Internet Explorer 11, or Microsoft Edge with Internet Explorer Mode.
This guide will help you set up Internet Explorer mode within your Microsoft Edge browser, then complete your Code Signing certificate request.
At this time, you may not use Chrome, Firefox, or Safari to generate or collect a Code Signing certificate.
Enable Internet Explorer Mode
First, you must enable Internet Explorer mode within your Edge browser. This feature can be found in Settings. Click the three horizontal dots in the upper-right hand corner, just beneath the X that would close out the browser window to open Settings.
Click default browser in the column of options on the left.
In the pane labeled "Let Internet Explorer open sites in Microsoft Edge" select the option Incompatible Sites Only (recommended). For "Allow Sites to be Reloaded in Internet Explorer mode", be sure the option Allow is selected from the drop-down menu.
In the pane further below, labeled Internet Explorer mode pages, one will need to manually add which websites will be allowed to be loaded in Internet Explorer mode. 
Click Add, then enter the URL from the generation page on your order dashboard, where you are prompted to fill out the information for your certificate request.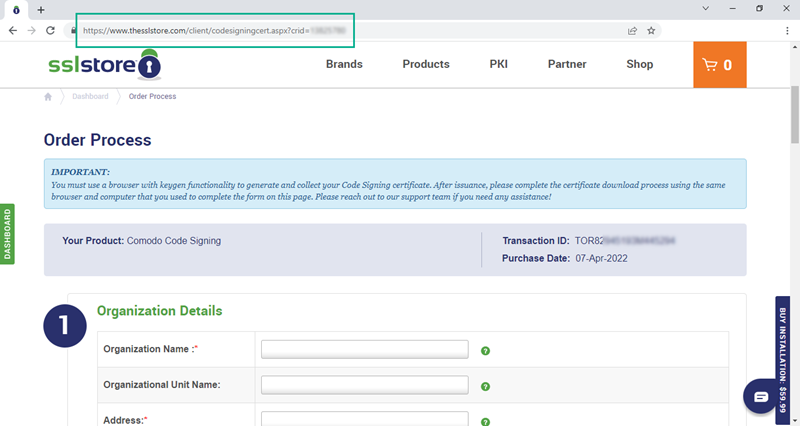 Later, you will also enter the collection page URL provided by the CA via email when your certificate is validated. You may be required to restart the browser for these changes to take effect, and you may also be required to login to your account again.
Once you have configured Edge to use Internet Explorer mode on the generation page, you can proceed to fill out the order form. You should see an Internet Explorer mode banner on the page – do NOT click the "Open in Microsoft Edge" button.

How to Complete Code Signing Order Form
The first step on the order form is to allow the Web Access Confirmation process. Click yes on this pop-up. If you do not see this pop-up, something is not working correctly, and you will not be able to generate the certificate.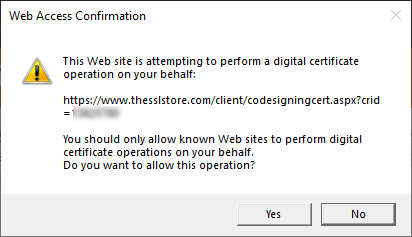 Next, select the type of certificate you are requesting. If you are requesting the certificate on behalf of an organization, select organization. If you are requesting the certificate for yourself or for an individual developer, select Individual.

Continue to fill out the order form with the requested details. Please enter the legally registered name of your organization, or if you are requesting the certificate as an individual, enter your legal first and last name in the organization name field.
For individuals, use your own personal information wherever the form requests organization details.
On Step 3 – Certificate Details, select "Use My Browser to generate the CSR."
There is generally no need to change the default Advanced Private Key Options, just make sure the "Exportable?" option is checked.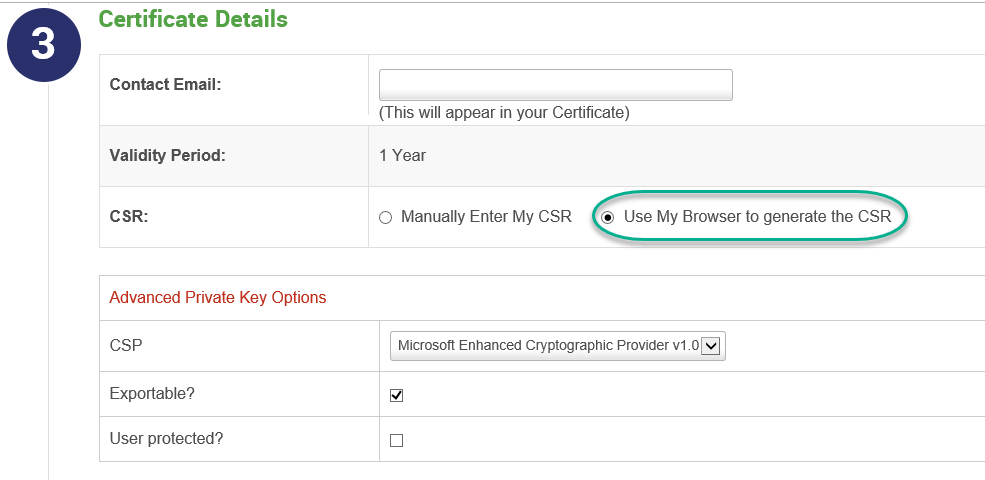 Finally, read and accepted the Subscriber Agreement, then click Submit to complete the order form.
The Certificate Authority will soon begin validation with you. The validation requirements for your code signing certificate may be different depending on the type of certificate (organization or individual). For more information on how to complete validation for your code signing certificate, check out our Code Signing Validation guides. 
Ready to collect your certificate? Go to our Microsoft Edge with IE Mode Code Signing Collection guide.