What is MalwareGone?
CodeGuard's patented MalwareGone™ functionality automatically scans, discovers, and fixes threats your website encounters. To spread malware, Hackers no longer need to deface your website to get you blacklisted on Google. CodeGuard's MalwareGone will protect you from this!
MalwareGone will monitor your site for malware, spyware or viruses. If something malicious is discovered, you will immediately be notified. To begin the remediation process, it only takes one click of a button.
Your website will be monitored daily to safeguard your content and reputation using the CodeGuard tools. In addition to sending ChangeAlert™ email notifications, if any web content changes are detected, CodeGuard will also instantly alert you if viruses, trojans, rootkits, spyware, or other malware appear on your site. When you get these notifications, you can easily start restoring your website using the MalewareGone feature.
How to enable MalwareGone?
This is fairly easy! Once you have set up the CodeGuard account through FTP/SFTP you are done with just 3 clicks.
On your dashboard for the domain, click on the domain you want to add MalwareGone. Once you are on the dashboard for that domain you should see this:

If you click on Security, you should see this: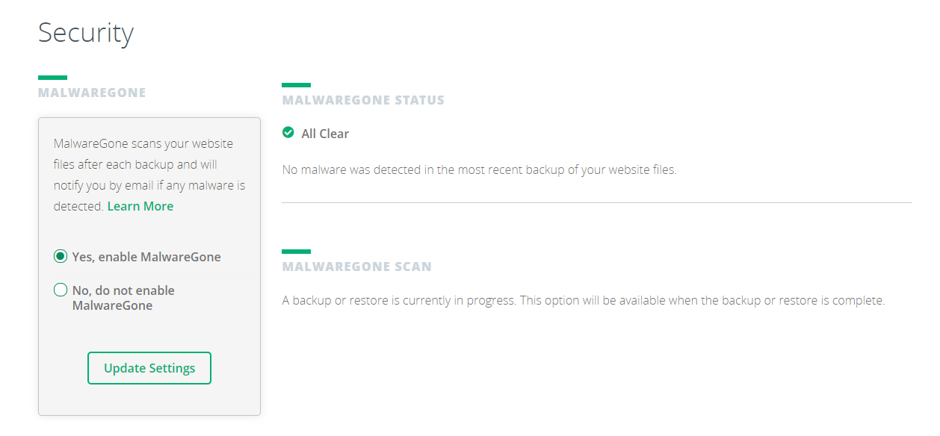 Tick the box for 'Yes, enable MalwareGone' – and that is all! Update your settings and you are ready to go.