Cybercrime by State: How much does cybercrime in the US cost?
Breaking down US cybercrime by state, by victim and by monetary loss
There's no shortage of evidence – statistical and anecdotal – when it comes to the threat posed by Cybercrime. We've talked about how cybercrime is a $1.5 trillion industry. We've mentioned that 1.4 million phishing sites get made each month. We've covered high-profile security incidents, like damage caused by certificate expirations and lax data security practices. We've even done a deep dive on 2018 cybercrime statistics. Well, today we're going to breakdown cybercrime by state.
Each year the FBI releases a report on cybercrime. It's done by the FBI's Internet Crime Complaint Center. Last year, cybercrime accounted for $1.2 billion dollars in losses for the United States.
That's a bit different than the $1.5 trillion dollar figure we talked about earlier this year, but there's a reason for that. And that, along with some interesting statistics about cybercrime by state, are what we're going to discuss today.
Let's hash it out.
Cybercrime by State: The big picture
Cybercrime accounted for $1.2 billion dollars in losses for US citizens. Let's start right out the gate by discussing the disparity in numbers here between that figure, and the 1.5 trillion we discussed earlier.
Here are a few reasons why:
This figure is for the United States only
This figure only takes into account personal financial losses
This figure only covers what was reported to the FBI
The $1.5 trillion figure, to start with, was a rough estimate. Granted, the report says that's actually a conservative estimate, but an estimate nonetheless.
It's also on a much larger scale. We're talking about the US in the first figure and the entire world in the second. We're also talking about business losses in addition to personal ones. And finally, that $1.5 trillion figure pertains to how much money will be MADE off cybercrime. Not how much will be lost.
Now that we've settled that, here's a look at the map of cybercrime by state, courtesy of CNBC.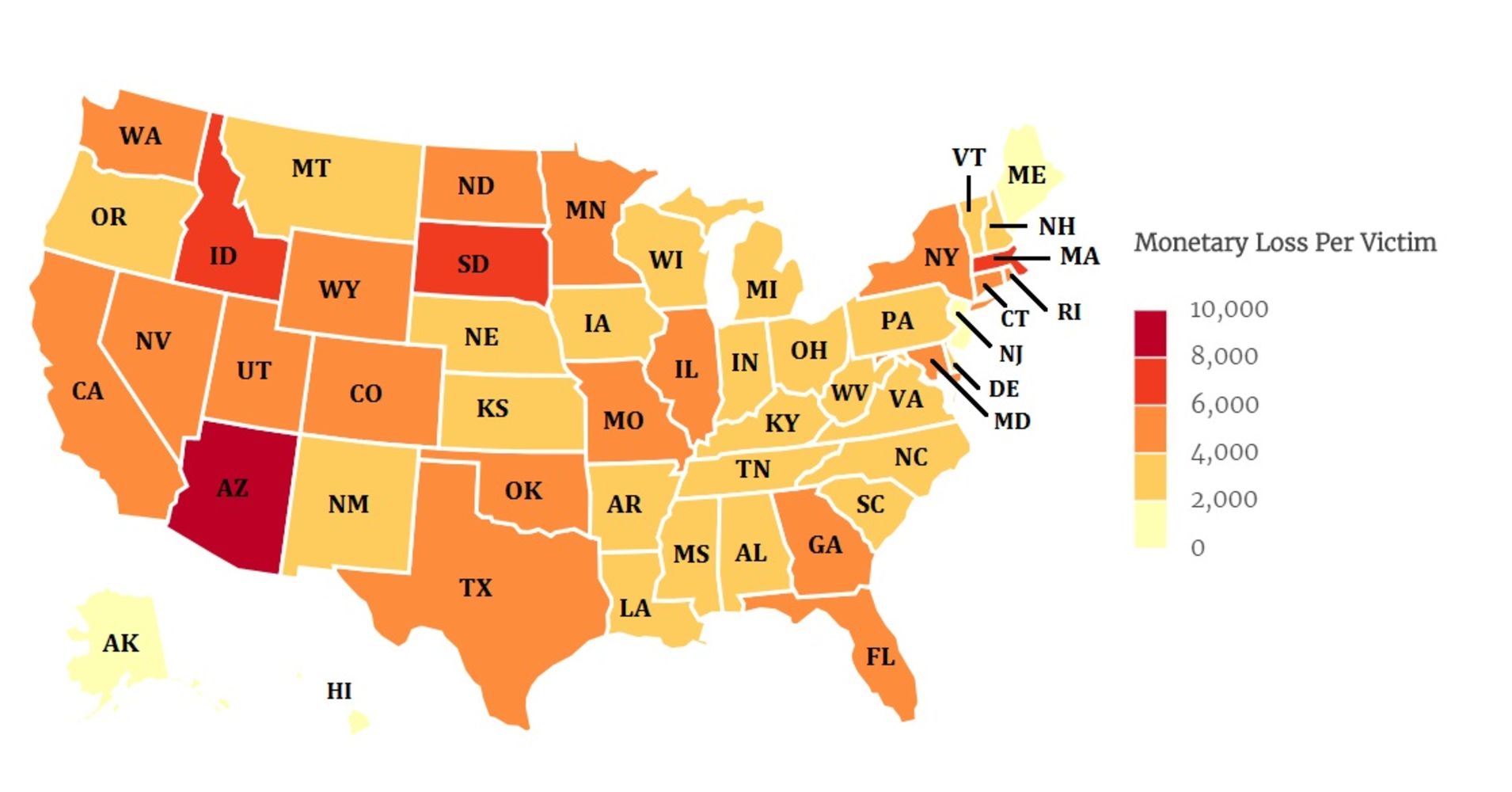 Cybercrime by State: Total Monetary Loss per Person
Let's start off with the total amount lost by state per person. For the sake of brevity (and the sanity of our author) I'm only going to list off the top ten, and maybe give a shout out to the states bringing up the rear, which is actually a good thing in this case.
Let's start off with which states got hit hardest in terms of money lost per individual victim.
| | |
| --- | --- |
| State | Losses Per Victim |
| Arizona | $9,251 |
| Massachusetts | $7,463 |
| Idaho | $6,457 |
| South Dakota | $6,119 |
| Washington | $5,278 |
| North Dakota | $5,653 |
| Georgia | $5,474 |
| Wyoming | $5,373 |
| Texas | $5,294 |
| Minnesota | $5,825 |
Alaska brings up the rear with a $1,205 figure. Arizona's figure is so high because it's home to so many healthcare organization. Healthcare info is among the most valuable when you're attempting identity theft, hence the figure being nearly $10K.
Cybercrime by State: Victims per Capita
Remember how Alaska was just ranked 50th for having the lowest cost per victim in the cybercrime department? The shoe's on the other foot in this category. Alaska is dead last in terms of most victims per capita. Out of every 10,000 people, 19.2 are victimized in Alaska. For a sense of context, that's over 100% higher than it should be, based on the rest of the country. In both of the Dakotas, which rank the lowest, that number is 4.7.
| | |
| --- | --- |
| State | Victims per Capita (10,000) |
| Alaska | 19.2 |
| Washington, DC | 16.5 |
| Nevada | 15.6 |
| California | 14.2 |
| Colorado | 14.1 |
| Hawaii | 13.5 |
| Maryland | 11.2 |
| Virginia | 11.1 |
| Florida | 10.4 |
| Washington | 10.1 |
Cybercrime by State: Most Dangerous States
Finally, let's flip that category and look at which states have the most cybercriminals per capita. It's worth pointing out that the header for this section is supremely misleading. Given the global nature of the internet, just because a state has a lot of cybercriminals doesn't mean that they're all conducting cybercrime within that state's borders. I'm not a cybercriminal personally, but I think the expression goes something to the tune of 'don't poop where you sleep.' Not sure if that logic holds true for cybercriminals or not.
Anyway, here's the most dangerous states in terms of cybercriminals per capita.
| | |
| --- | --- |
| State | Cybercriminals per Capita (10,000) |
| Washington, DC | 12.6 |
| Nebraska | 11.2 |
| Delaware | 8.5 |
| Nevada | 6.9 |
| Montana | 6.4 |
| Maryland | 5.2 |
| California | 5.0 |
| Virginia | 4.5 |
| North Dakota | 4.2 |
| Florida | 4.2 |
So, that's a quick look at cybercrime by state. And also a nice reminder that if you're not investing in yours and your organization's cybersecurity, you're potentially opening yourself up for major losses both financially and in other less tangible areas. Happy Monday!
As always, leave any comments or questions below…