20 Surprising IoT Statistics You Don't Already Know
The IoT device market is on the rise and is poised to reach $1.1 trillion by 2026
The Internet of Things (IoT) has been a hot topic for decades — ever since a few Carnegie Mellon University graduate students decided to use ARPANET (the precursor to the modern Internet) and a sensory board to monitor the temperature and availability of a Coca-Cola machine's products in the 1980s. But where is the IoT industry headed? Looking at some of the highlights from the industry's top IoT statistics helps to shed some light on the growth of the industry that has taken computers from being machines that once required entire rooms of space and revolutionized them into ones that can be worn on your wrist.
The fourth industrial revolution (4IR) is making a significant impact in our world and how we do business. Nowadays, it seems like everything is connected to the internet. Manufacturing equipment, thermostats, refrigerators, wristwatches, baby monitors, automobiles, medical devices — even door locks. (Yeah, we don't think all of these are particularly smart, either, considering the insecurities that plague IoT devices — but, hey, whatever floats people's boats.) But the forward momentum doesn't stop there. Companies are continually striving to make virtually everything connected — regardless of whether everyone is on the same page about such an increasing level of connectivity.
David Evans, former chief futurist at Cisco and CIO/VIP of Technology at the Computer History Museum, said that the "things" covered by the Internet of Things is no longer just computers and phones:
"Today, literally anything can be connected, including tennis rackets, diapers, clothing, vehicles and, of course, homes. And although people may find this unsettling, the network is also starting to include biological things: Today, pets, crops, livestock, and the clothing on your body can be connected. We're not far from an Internet link you can actually swallow as a pill."
With all of this in mind, it's no surprise that the topic of IoT statistics is also of interest to many people. After all, "internet of things statics" is a term that encompasses a lot of different areas such as the overall IoT market, the number of IoT devices on the market, attack-related statistics, frequency of use by businesses, individuals, and different industries.
So, what IoT stats made our list for 2019?
Let's hash it out.
20 Essential Internet of Things Statistics to Keep You Up to Speed
We've compiled some of the top IoT statistics for 2019. However, it's worth noting that some of these statistics may seem a bit contradictory — but that's because the methodologies used in the studies and calculations differ by source.
IoT Statistics: An Overview of the IoT Market
1 — The IoT Devices Market Anticipated to Reach $1.1 trillion by 2026
A report by Fortune Business Insights indicates that the global market for IoT, which was valued at $190 billion in 2018, is forecasted to reach $1.11 trillion ($1111.3 billion) by 2026 at a 24.7% compound annual growth rate (CAGR). The banking and financial services industry is anticipated to be the largest segment of the market share.
2 — Global IoT Healthcare Market to Reach $14 billion by 2024
Data from Zion Market Research indicates that the value of the global IoT healthcare market is anticipated to reach $14 billion by 2024 with a CAGR of 12.2% between 2017 and 2024. The increase is attributed to the increasing use of cloud computing in healthcare facilities.
3 — 25 billion IoT devices by 2021
Gartner reports that there are 14.2 billion connected things in use in 2019. The company also anticipates that there will be 25 billion connected things by 2021 — a number that surpasses their previous estimates of 20.4 billion as the number of connected devices by 2020.
4 — 3.5 billion cellular IoT connections
In its June 2018 mobility report, Ericsson estimated that cellular IoT growth will lead to 3.5 billion cellular IoT connections by 2023 with an annual anticipated growth rate of 30%. This is nearly double their previous estimates — part of which is due to the anticipated release of 5G and ongoing large-scale deployments in Asia (China in particular).
5 — North American Generated $83.9 Billion in Revenue in 2018
The Fortune Business Insights report we mentioned earlier indicates that the North American IoT market generated nearly $84 billion in revenue in 2018. This number is expected to increase in 2019.
IoT Statistics: Adoption Rates and Success
6 — 58% of financial executives report having well-developed IoT initiatives
A Forbes Insights survey of 700 executives, performed in collaboration with Intel, reports that financial services organizations lead the way in IoT deployment. The data shows that "close to six in 10 executives in the financial services sector, 58%, report having well-developed IoT initiatives." The financial services industry is followed closely by the healthcare industry with 55% of survey respondents reporting having "fairly robust deployments in place."
7 — Digital transformation is a top strategic objective 94% of executives
A Deloitte Industry 4.0 survey of 361 executives across 11 countries shows that 94% report digital transformation as their organization's top strategic initiative.
8 — 80% of organizations report positive results
A Gartner study indicates that 80% of surveyed organizations that have adopted IoT are achieving "better-than-expected results."
9 — 85% of respondents say they have IoT project budgets
A recent International Data Corporation (IDC) report indicates that of the 5,421 survey respondents from 29 countries, the overwhelming majority have dedicated budgets to IoT projects.
10 — 81% of U.S. internet users know about "smart" and connected devices
Matthew Lieberman, marketing leader at PricewaterhouseCoopers (PwC), shared in a Forbes article that PwC data indicates that not only are 81% of surveyed internet users residing in the United States familiar with smart devices and the connected home, but 30% said "they cannot live without smart devices." A bit melodramatic, perhaps, but it shows the increasingly positive perspective of smart devices with the country's general population and the West's growing reliance on them.
11 — 152,200 IoT devices per minute
IDC data estimates that 152,200 IoT devices will be connected every minute by 2025. Let's do the math: When you multiply 152,200 (the estimated number of devices connected per minute) by 525,600 (the number of minutes per standard 365-day year), the total is staggering. It means that by 2025, nearly 80 billion (79,996,320,000) devices are forecast to be connected annually.
IoT Statistics: IoT Vulnerabilities and How These Devices Are Used in Cyber Attacks
While IoT devices have many benefits, it's no secret that they also pose as attractive attack vectors for cybercriminals. The OWASP Top 10 Internet of Things 2018 list is comprised of 10 IoT-related vulnerabilities and weaknesses, including insecure passwords, networks, and ecosystem interfaces.
IoT devices are frequently compromised and added to botnets. These dangerous networks are frequently used to launch distributed denial of service (DDoS) malware and brute-force attacks against businesses of all sizes globally. Here are some IoT statistics concerning attacks on or using connected devices.
12 — Fewer than 20% of risk professionals can identify a majority of their organization's IoT devices
Fewer than 20% of the 605 survey respondents from a combined Ponemon Institute and Shared Assessments study can identify the majority of their organization's IoT devices. Furthermore, 56% report not keeping an inventory of IoT devices, and 64% report not keeping an inventory of IoT applications.
13 — 75% of infected devices in IoT attacks are routers
Symantec data indicates that infected routers accounted for 75% of IoT attacks in 2018, and connected cameras accounted for 15% of them.
14 — IoT devices typically attacked within 5 minutes
Five minutes. That's the average amount of time that it takes for an IoT device to be attacked once connected to the Internet, according to NETSCOUT's Threat Intelligence Report from the second half of 2018.
15 — 76% of risk professionals think IoT leaves them at risk of cyber attacks
The Ponemon Institute and Shared Assessments survey indicates that 76% of risk professionals believe that cyber attacks on their organization are likely to be executed through IoT.
16 — IoT Malware Attacks Skyrocketed in 2018, Trend Continues to 1H 2019
SonicWall reports that IoT malware attacks jumped 215.7% to 32.7 million in 2018 (up from 10.3 million in 2017). The first two quarters of 2019 have already outpaced the first two quarters of 2018 by 55%. If this rate continues, it'll be another record-setting year for IoT malware attacks.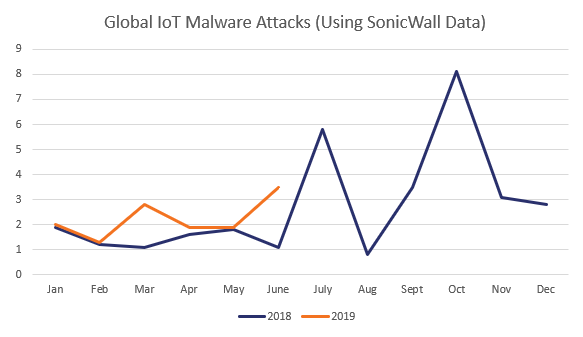 IoT Statistics: Concerns about Data Privacy
Not everyone is jumping for joy as IoT devices take a stronghold in modern technology. Here are some industry statistics concerning data privacy in an IoT era:
17 — 92% of global consumers want to control their PII
Findings from an Economist Intelligence Unit (EIU) survey of 1,600 consumers in eight countries indicate that 92% of global consumers want to control the types of personal information that is automatically collected about them. The same number of consumers want to increase punishments for companies that violate consumers' privacy.
18 — 74% of global consumers worry about losing civil rights
Data from the EIU survey suggests that the majority of surveyed consumers are concerned that "small privacy invasions may eventually lead to a loss of civil rights."
19 — 63% of consumers find connected devices "creepy" concerning data collection
While connected devices are exceedingly popular with consumers, nearly two-thirds of surveyed consumers from the U.S., U.K., Australia, Canada, France, and Japan think the way that connected devices collect data about them and their behaviors is "creepy." This data is the result of a Consumers International and Internet Society survey on consumers' perceptions and thoughts of consumer IoT devices.
20 — 55% of companies don't require third-party IoT provider security & privacy compliance
The Ponemon Institute and Shared Assessment survey shows that "only 45 percent of respondents are requiring third parties that have access to their sensitive and confidential information to ensure compliance with security and privacy practices." Of those respondents, only 51% require remediation of any identified third-party weaknesses.
IoT devices and the IoT market are huge opportunities for businesses and cybercriminals alike. While they
What are some of the important and recent IoT statistics that you've come across in your work or research?
As always, share your thoughts in the comments.