Chrome is Bringing Back Easy Access to the Certificate Viewer
You won't have to go into Developer Tools to view certificate details in Chrome.
A few months ago Chrome removed the link to the certificate viewer from the Page Info dropdown (which is the proper name of the menu that appears when you click the padlock icon).
That link was moved into Developer Tools, where it seemed to be more at home with other power-user options. The downside is that it now takes a few clicks to see a site's certificate and removes that feeling of easy access to the certificate details.
This has turned out to be an extremely unpopular change amongst the tech crowd. Chrome's development team has read the complaints (yes, even that rude one you wrote in a nerd-rage) and is rectifying the situation by making it easier to view certificate details in Chrome.
In an upcoming version of Chrome, a "Certificate" section will be added to the Page Info dropdown. Clicking the certificate's status ("Valid" in this screenshot) will open the certificate viewer. This will bring back the same one-click access we were used to.
Right now it looks like this option may not be ready until Chrome 60, which is due out in August. Hopefully it eases your pain knowing a change is coming later this year.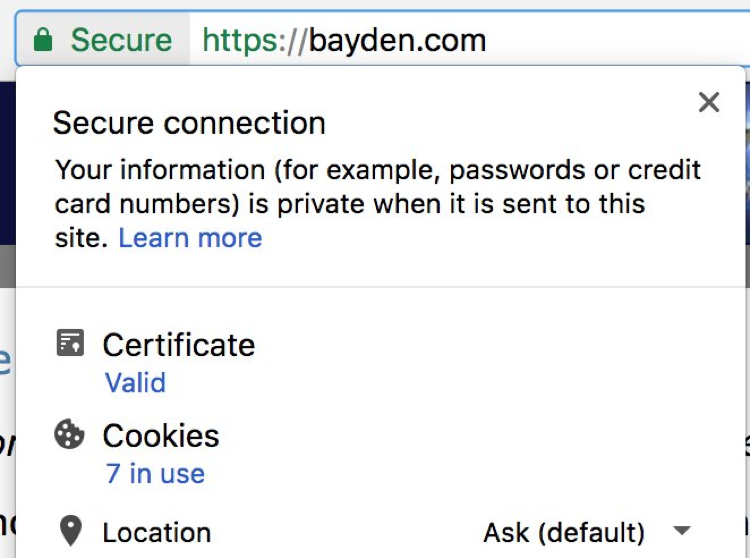 Why the wait? Right now, Chrome is working on overhauling the permissions menu. Since the new "Certificate" option will be living in that menu, it does not make sense to go through the work of adding it to the current iteration which is about to be replaced.
Eric Lawrence, the Google engineer who is bringing back the certificate viewer option, is attempting to get the option added in earlier as a configurable flag. If that happens, you will be able to switch the option on in chrome://flags earlier than August. For those of us who need to look at dozens of certificates a day, it's a welcome change.